If you are like me, you like to take some time out for yourself and do some self reflection, especially when things are chaotic: just like the world is at the moment.
To make this process easier, I ask myself these 3 things:
1. Where You Once were
2. Where You Are Now
3. Where You Want To Be In The Future
and in this email, I am going to talk about exactly these things.
If you want to live a life filled with less regrets and close to how you always planned it to be, you should follow this exercise. It has personally helped me a lot. Take a pen and paper once you are done with this email, write these things down for yourself or if you want to share​ it with me like I am doing in this email, go ahead and type everything out in reply.
​1. Where I was once:
​Back in 2012, after getting seriously burnt in the entire JEE fiasco, I started my Bachelors in a State government university called DCRUST in a small village in Haryana. (The name of the university sounds fancy as long as you don't stretch it out in its full form. I will leave this detective investigation to you). After jumping from Computer Science to Mechanical to IT to Chemical and then finally to Civil in different state universities during counseling (and yes, in the exact same order), I started my Bachelors. 
Boggles my mind thinking that I could have done engineering in any of those fields without any passion for it.
How I felt at that time: Burnt out, Defeated and without any friends.
That's generally how the college life starts for quite a few of us.The drama with the hostel room allotments, then attending every single lecture during the first semester but then organizing mass bunks in the next one after realizing the quality of education in the university are just a few classics. The end of second year hits and everybody gets conscious because they realize the Bachelors is going to end soon and they still don't have a plan in hand.
Joined the coaching for GATE with some of my batchmates, but lost interest in that too when we started sitting in the big lecture halls of MADE EASY classes in New Delhi with 300+ students in the same room. It just didn't feel different enough because it brought back that common belief: If JEE didn't work out, then why will this?
​2. Where I am now:
​Dropped the coaching, applied for an internship at the end of my 3rd year in Berlin, started learning German in the 4th year, and then applied for one single university: TU Hamburg because of the good recommendations about it I received while doing my internship. I applied, TU Hamburg rejected and I asked myself, is it possible that anything in this life can happen without some drama.
After a lot of fight and compiling the journey of my reconsideration letter, at the age of 21, I started my M.Sc. in Structural Engineering in TU Hamburg in a German taught program. Went the first day to the university, opened the class door, put my bag near a chair and sat in the room like a lost puppy. Went through the entire lecture without understanding 80% of it and directly took the train back home. All the way back, I again just asked the question: ​was it the right decision?​
Was all the fight worth it? But I quickly reminded myself to give it some time and that I did. Started my part time work at a Structural Engineering firm in Hamburg, did another semester, took some more lectures, wrote a few semester exams but then decided in the end to give Management a try because of my new found love for business administration through YouTube.
Now this meant taking a massive step back: all the fight for getting a place for Masters at TU Hamburg and clearing TestDaF will be put in question again. I gave my IELTS exam in Hamburg (The International Management and Engineering course at TU Hamburg, being a bilingual course, I had to show my proficiency in both languages and MOI wouldn't cut it).
1. June 2017: applied for 'M.Sc. Internationales Wirtschaftsingenieurwesen' program the first day the application portal opened and I got accepted. Made some nice friends, went to a lot of events to learn more about the career opportunities afterwards and started writing my Master Thesis on my own brand that I created: Bharat in Germany.
Everything went smoothly other than the last stage of my Masters: getting the final certificate.
You see, for most of the German universities, only the exams and evaluations for the summer semester which happen till ​15. November​ are counted, but neither did I know it at that time, nor did my supervisor. I submitted my Master Thesis punctually on 21. October 2019. After that, the supervisor and the professor had to sit together to give me the final date of Thesis Presentation or ​'Thesis Defense'​ which my supervisor said can be around the second week of November but ended up being ​3. December 2019. ​
Till that time, I was already exmatriculated from the university because I didn't pay the fee for the Winter Semester and of course, I didn't care as I had no other courses or exams to take! On 16. December, a lady calls me from the examination office from TU Hamburg and told me that I received your final grades now, but I can't work on it because you are not enrolled in the Winter Semester and unfortunately, you can't complete your Masters.
I had a facepalm moment again. After so much fight, how is it possible that these details are not explicitly mentioned anywhere? And how come my supervisor didn't tell me about it?
I got in touch with the university and after really long process, I finally received this beautiful letter last week, confirming me that I will now forever be an alumnus of TU Hamburg's International Management and Engineering Masters Program: ​I couldn't be happier! This is the day I was wishing to see ever since 2016!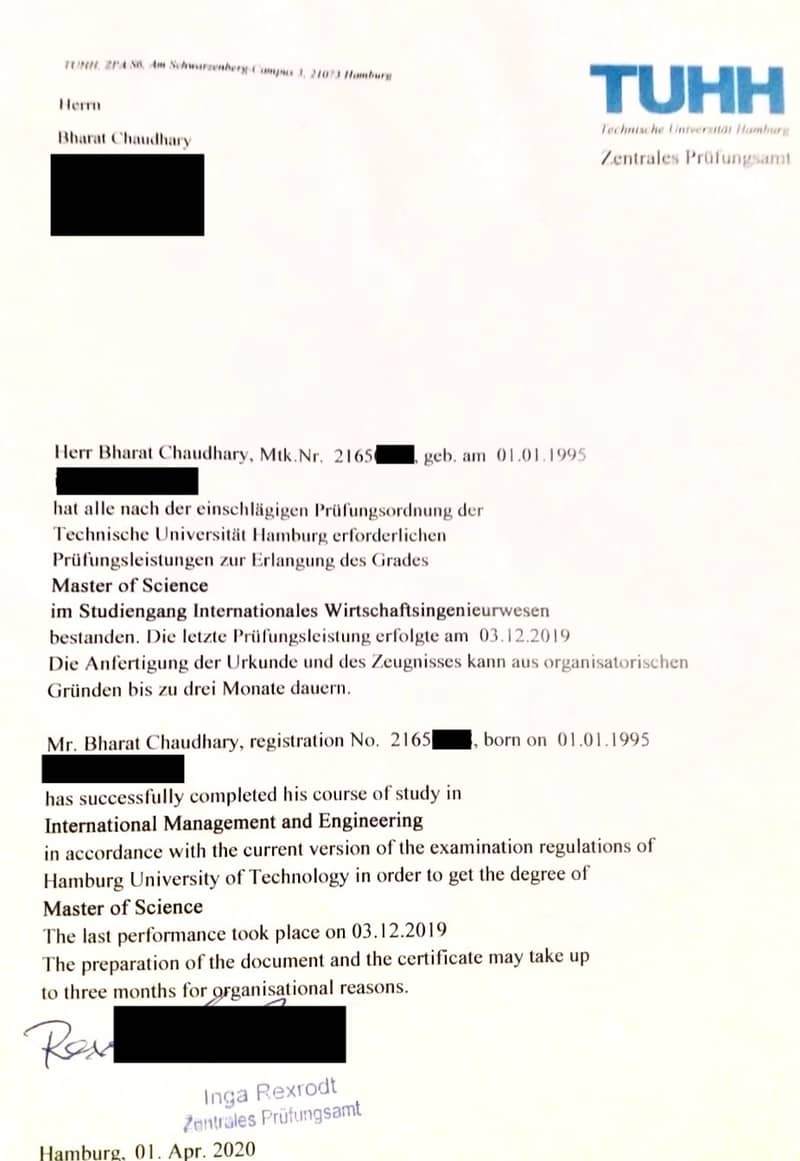 ​
With the chapter of my Masters closed and after 24 years of grinding in education, completing one class after the next and one degree after the next, I decided to help my wife, Alina out in her dream of having her own Bed and Breakfast on the island that we got married on. We had been saving every single penny for this ever since we got married and we saved enough to pay it off right away. Taking a loan for buying a house was never an option for us, and we are glad that it wasn't because in times like these, where no travel or tourism exist, we don't know what we would have done.
The house was a big investment and the companies that we hired to do repairs was even more difficult to manage, but because we knew we will launch it for renting it out on 01. April 2020, we didn't care much. But of course, nothing worked out as we planned. Nobody took into account this situation.
For most of us right now, it is a question about how we can survive through this time to come to the other side. All plans are on hold. Hirings stopped, borders closed, businesses shutting down which in turn results to more unemployment. There is not a single country which isn't effected by this, but I know that once all this is over and we are able to enjoy the things that we always took for granted, we will be kinder, more grateful and more thankful for being able to travel around, have gatherings, going to work and attend lectures because we missed out on that human connection for so long!
​3. Where I see myself in the future:
I have always tried to teach what I learned and the primary way of doing that for me was YouTube and now the online courses that I put so much efforts inside. When I started writing my Master Thesis, I decided to continue what I had built up all this time: Bharat in Germany to help students and professionals who want to study, work or live in Germany and Brandevise to help international students and professionals living in Germany to take care of their finances, teach them about side-businesses and help them realize their 'German dream', ​so that they can really live their life to the fullest here. Everything costs money and unless we learn how to be smart about it (and being smart about it doesn't mean earning to save, but earning to invest), we can't live the life that we always dreamed of.
Building BiG Academy into a proper Academy with some really high quality courses on solving problems people face in migrating from India to Germany and helping them integrate into the German society better and continue building Brandevise into Germany's 1st YouTube channel teaching international people investing and business in English. Working on these two projects excite me the most right now, especially when I realize that if I didn't create them, these two things would have never existed in this universe.
That's the plan for now, but in the longer run, I can see myself picking up a Ph.D. and continuing my academic career. Ideally being a professor and teaching students would be what I would love to do, but I also wouldn't let titles and institutions prevent me from teaching everything I know to the ones who want to learn it. Why not?
​- What You Can Take Out Of This Story:
The people around us are the first ones to discourage you from building your plans, telling you, 'don't daydream'. I would rather say, try. Try dreaming and write it down on the paper and write the steps on how you can get there. You saw my story: it is just not possible that everything runs smoothly. Every single time there was a moment I could get happy about something, right at the next moment I had to work three times harder to solve another problem that arose, or take a few steps back and go into a completely different direction.
I wouldn't even say that life would be boring without these up and downs, but what I would say is that you would cherish what you have less without them and you would also have no incentives of planning things out, which is actually important in real life.
What's your story? What did you learn from your story? Where were you once, where are you now and what do you plan to do in future?
Think about them.
It will help you use your time better and make your goals easier to execute in the future.